Before anyone gets offended, I don't dislike cats. I don't even subscribe to the entire dog vs. cat mentality. But I do have certain affection (read affliction) for dogs, any size of dog, all types of dogs and particularly dock dogs.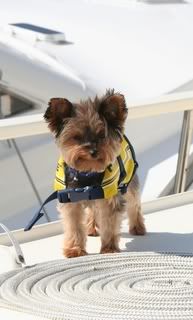 Dock dogs are on my list as man's greatest friend. Most are relegated to a twice a day ritual that consists of a very long walk down the dock to do what dogs must, on one very small and over fertilized patch of green grass followed by a very long walk back to a boat without a yard.
Dogs for some reason must have grass. I know you can train them to use a paper, which works great if you have a small dog but surprisingly most dock dogs come in the large size and they demand the green stuff. Imagine if you could only go to the bathroom twice a day holding it for 12 hours at a time.
The Charleston City Marina is full of dogs, there's a Doberman, a Mastiff, a Great Dane, and "Chewy" a Karin Terrier who greets each day and boaters on the dock with unbridled enthusiasm, with his salt and pepper fur and diminutive size he races down the dock to bark at pelicans and egrets. His happy tail signaling please pet me to all who pass by on his walk to that small green heaven designated for doggie doo doo.
Dock Dogs are named for things boaters like, so there are beer dogs Molson, and Guinness, band dogs Dmby (Dave Matthews Band) and Hootie and Blowfish both of the Jack Russell breed. There are of course fishing dogs, Hooker, Moby and my wife's dog who I call Bait.
Bait, whose real name is Pooh Bear, is a 3 pound Yorkie. Please don't tell anyone but secretly for fear of having my man license revoked I think Pooh is the best dock dog ever. At 3 pounds she eats only a spoonful of food and sleeps curled up on pillow the size of dinner plate. She is a pocket pet and has dined in her Polo doggie pouch at some of Charleston's finest restaurants without being noticed.
Forced to walk her down the dock with her pink leash and collar, I often joke to passers by that "the breeder told me she was a pit bull". This which hardly fits because she is not the yippy, snappy little dog most people expect. Rather she is overly friendly, never met a stranger kind of dog that acts more like a Lab than Yorkie, and I have to admit she's a somewhat of a chick magnet.
Then there are Max and Bailey, two 100 pound plus golden retrievers who are celebrities. Max and Bailey are well traveled dock dogs. Back in 2004 they rode with their owners Blaine and Janet Parks as they traveled across the country visiting 48 states in seven months on Harley Davidson Motorcycles equipped with sidecars to raise money and awareness for several canine support groups. (www.hogsfordogs.com)
Max and Bailey have traveled over 25000 miles and now spend their days lounging about the docks at the Charleston City Marina. They are both well past the age of most Golden Retrievers. Max has noticeable stiffness in his walk and Bailey who carries his own leash down the dock has terminal cancer.
You might feel sorry for Max and Bailey, but as dogs they don't complain, Max doesn't mind moving a lot slower than he used to and Bailey has no idea he has cancer. He is neither a survivor nor a victim because he is a dog.
They both greet me just like they have greeted others every day of their wonderful dock dog life, wanting noting more than a good pat on the head and a happy hello from a stranger, on their way to that coveted piece of green grass heaven just off the end of the dock.
Chris McIntire
PS. Bailey lost his fight with cancer the other day. And so it goes that Max now walks alone to the doggie doo doo spot…. his walk slower that when Bailey was leading the way. But I suspect that doggie heaven is a place of sunny days and endless fields of green grass.