Many readers and visitors to Life Floating By, have read the tragic account of the sinking of
S/V Free Fall
on Wednesday October 29, 2008.
The 44 foot Swan sailboat US 777, was recently purchased by Mt. Pleasant dentist Dr. Kevin Hogan from well known Long Island Sound racing sailor, Bill McFaul. It has been reported that McFaul maintained his boat in top shape and it was in excellent condition when Hogan purchased the boat last month.
On Sunday October 26 th, Hogan, fellow Mt. Pleasant sailor Teresa Gravie, 44 and Phil Rubright departed Rhode Island in route to Charleston when they encountered heavy weather and high seas.
Around 7:16 PM on Tuesday the 28th of October, the US Coast Guard received a EPIRB signal from Free Fall after the vessel was overcome and finally rolled in 40-50 foot seas and 50 knot winds. During or shortly after the initial coast guard rescue attempt Phil Rubridge would die.
Phil Rubright

As with any marine causality there are a lot of Monday morning quarterbacks. Questions about the skill, and in some cases the sanity of the crew aboard sailing vessel Free Fall abound. Even one Charleston sailor Brad Van Liew used the tragedy for self promotion proclaiming in the Charleston Post and Courier newspaper that Phil "Rubright had been to races in Charleston and had been a fan during Van Liew's two around-the-world solo sailing voyages."
The comments at the
Charleston Post and Courier
on line edition, and message board sites like, Sailing Anarchy range from the polite "what happened?" to outrageous ridicule. The Press of Atlantic City ran an editorial on Monday November 3rd, titled "
Reckless Sailors - Endangering Lives
". One news story pointed to Hogan's lack in judgement by noting that the USCG had rescued Hogan on his way to Charleston during a storm last year as well.
There are many who will wonder why anyone would leave the comfort of the couch and the safety of cable television to live their lives on the open water. Sadly those poor souls will never witness the amazing beauty of a star filled night while drifting silently along, or the stunning brilliance of dawn's first light at sea. They can not possibly understand that it is about the journey and not the destination.
To question is understandable, but according to several web sites located by LFB Phil Rubright was anything but reckless. A very accomplished blue water sailor, having competed in numerous solo great lakes regattas, including the Point Huron – Mackinac Island Solo Challenge 18 times the first in 1983, as well as several trans-atlantic solo races. Phil Rubright was a heck of a sailor, and the kind of person you always looked forward to sharing a beer with, someone who was living the dream, a life of sailing.
Phil Rubright on the Left

According to Blair Arden, the above picture of Phil, Jo, and Dave is from June, 2007. "The reason they are all red is because they had all just completed The 29th Annual GLSS 2007 Point Huron – Mackinac Island Solo Challenge. Lake Huron in June is cold, and with elapsed times ranging from 55 – 78 hours, wind burn takes its toll."
The Michigan sailor cracked four ribs and dislocated his right knee during a knockdown while competing in the 2000 OSTAR transatlantic race from Plymouth, England, to Newport, Rhode Island. "I was one second from getting my nav-station belt on," Phil would report.
He would later say "Singlehanded sailing isn't something you do, it's something you are."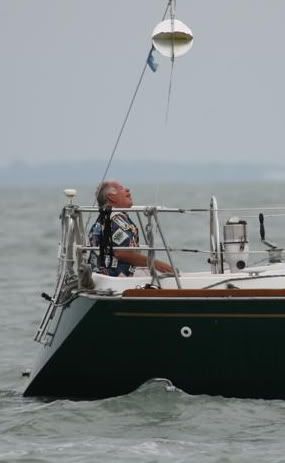 Phil Rubright concentrates on keeping the sails full while running downwind during the 2007 GLSS Lake Erie Solo Challenge.

Mark S. Gutteridge recapping the 2001 Lower Huron Solo Challenge told this tale of how deterimend a sailor Phil Rubridge was.
"Division "B" was about to start when we noticed a competitor whose shiny kevlar mainsail was split from the luff to the leech between the first and second reef points. John and Jean Chorestecki both commented that there was another boat that would unfortunately not be able to start.
I said "Hell, that's Captain Calamity Phil Rubright; that's not going to stop him. It is just another minor inconvenience."
As Phil passed close to the start boat he asked us if we had a spare mainsail and on hearing we did not he said, "oh well I think it will last to the first mark". I commented that Phil was one of the best sailors I have ever met and after all this was the Lower Huron Challenge.
Wally McMinn recalled that Phil Rubright once became locked in his own lazaret when the top closed on him during a solo race.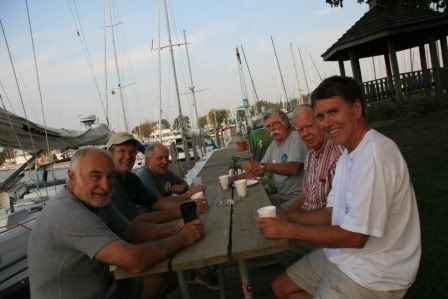 Phil Rubridge second from the right during the 2008 GLSS Lake Erie Solo Challenge.

You can find more details of Phil's life by visiting the GLSS website.
http://www.solosailor.org/
Details of the rescue attempt, video from the USCG, links to accounts of the weather in the area and photos of S/V Free Fall at the earlier post:
Coast Guard Rescues 2 Mt. Pleasant Sailors