The Charleston Post and Courier is reporting, the tall ship Roseway that was to arrive here early this week, has been delayed. I could assume that the unusual weather pattern that has created a month worth of bad weather offshore is the reason.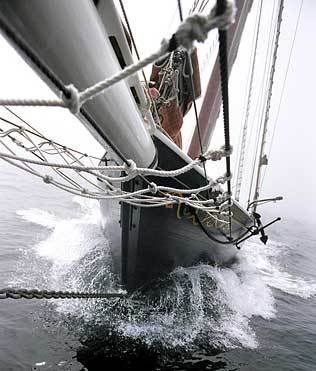 Photo World Ocean School
According to the P&C S/V Roseway is expected to arrive in Charleston Harbor on Sunday.
Unlike the South Carolina or even Schooner Pride, Roseway is the real deal, built in 1925 she's seen 80 years of blue water and some might say she shows it, but that is part of the charm, the well wore charm and feel of an old sailing ship.
The Roseway, which will be open to the public for free tours Sunday (if it makes it on time), provides the platform for the educational programs of the World Ocean School in Camden, Maine, and is on the way south to its winter port of St. Croix, U.S. Virgin Islands.
The Charleston Maritime Center is open 8 a.m. to 5 p.m. Sunday, but anyone wishing to see the Roseway should call first to see if the ship has made port.
More information can be found at the
World Ocean School
web site.