The Calverts vanished without a trace last Monday after leaving a business meeting to go to their live aboard yacht in the Harbour Town Yacht Basin.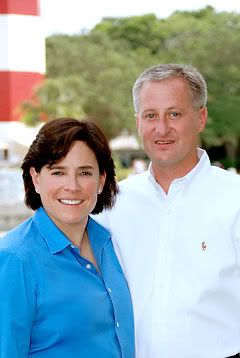 Tomorrow night employees and friends will hold a candlelight prayer vigil at 7:30 p.m. at the Liberty Oak in Harbour Town, with representatives of Providence Presbyterian Church on Hilton Head Island leading the service.
Employees of the marina are inviting all to attend the vigil.
While many theories abound, nothing of substance has come of the speculation. Local bloggers have even weighed in, offering thoughts and suggestions for local police and the public to ponder.
Blogs commenting of the disappearance of John and Liz:
Crazy Lady Talk
Under Cover Brother
Posting Goddess at Crime and Justice
Meanwhile the Beaufort County Sheriff's Office has issued a formal
missing person bulletin
and now even the mindless three word sentence Nancy Grace has gotten into the media frenzy.
Outside of the nut case comments, one theme I keep hearing and to misquote F. Scott Fitzgerald as one blogger has "The rich are different". This has been repeated over and over again using words like "wealthy", "prominent" and "well heeled", but let me assure you of three things;
First Fitzgerald said "the
very
rich are different from you and me" and Hemingway's famously dismissive response "Yes, they have more money" is still on target, lastly John and Liz are not what you could consider very rich and they are not so different at all.
They own a business, a very modest boat and modest home in Atlanta, a dog, a cat and average Mercedes, a Porsche and an small airplane to get them from Atlanta to Hilton Head without the headache of trying to get home via the back roads of Georgia.
John and Liz are wonderful down to earth hard working people, that don't live extravagant lives or beyond their means.
Yes, they were doing alright, which makes it all the harder for anyone who knows them to understand why they would just disappear.